Dine-In Seating is Back! 11am – 8pm Mondays – Fridays, 
4pm – 8pm Saturdays
Welcome To INGREDIENTS CAFE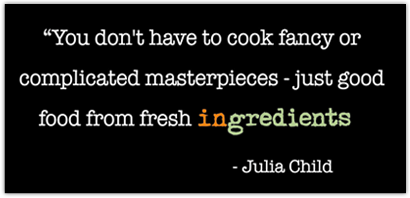 – Vegetable Fettuccine with Grilled Mahi –
(while supplies last)
Hand-Cut Noodles, Asparagus, Spinach, Black Olives and Sweet Peas
topped with Feta Cheese Crumbles and a Grilled Filet of Mahi-Mahi all in a Tomato Fennel Broth.
So Healthy and Tasteful Too.
$37
– Wonton Dumplings –
(while supplies last)
These Asian Style Wonton Dumplings are
made of Fried Chicken, Shrimp and Pork with
Ginger Scallions and a Chili Soy Dipping Sauce.
A Great First Course to Share.
$15
Try one of Rebecca's "Shaken With Love" drink specials!